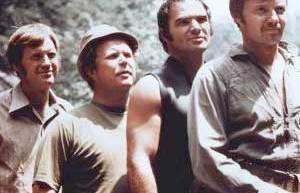 Ronny's big acting break was in the now classic film, Deliverance, released in 1972.  It was not only his first film, it was his first time in front of a camera.  Prior to this, he had done stage work in both Washington, D.C. and New York.  Needless to say, being cast in Deliverance opened doors for him that he didn't even know existed before. Ronny has had a remarkable run in a wonderful variety of films. In addition to Deliverance, there have been the critically acclaimed productions of Bound For Glory, The Onion Field, and Taps, as well as The Peabody Award-winning production of Thornton Wilder's, Our Town for The Bell Telephone Hour. He was recognized with the British equivalent of the Academy Award for the BBC production of The Chicago Seven Trial.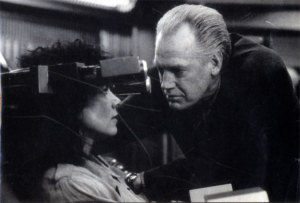 Ronny has also had his share of "blockbuster" commercial successes, including Beverly Hills Cop, RoboCop, and Total Recall, in which he played men of authority and out and out villains.  In addition, he has done countless TV movies, mini-series and TV series.  He feels very proud of A Case of Rape, which he acted in with Elizabeth Montgomery.  It was not only the highest rated TV movie for over ten years, it was also credited with getting landmark rape legislation passed. Ronny is also extremely proud of one of the most colossal flops in the history of television, Cop Rock.  It was ten years ahead of its time and it still is one of the most daring and artistically realized TV shows he has ever been associated with. Other shows that are remarkable accomplishments include Perfect Murder, Perfect Town, the Jon Benet Ramsey murder case; his first TV series, Apple's Way; the year he appeared on St. Elsewhere;  and a recent guest-star role on the Showtime series Dexter.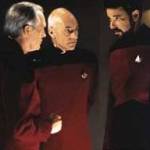 There are also some TV shows in the Sci-fi genre that he is delighted to have been in.  He took over as captain of the ship on Star Trek: The Next Generation, for two episodes when Picard was captured by the Cardasians, and he played Kinsey in Stargate SG1.  One of the great delights Ronny has had is to find such a synergy between the fantasy world and folk music.  He  plays several Folk Festivals every year and is always struck by the number of fans who come up after the shows, wanting to talk about Stargate or Star Trek…and these are real music fans too!
Ronny has acted in over 125 movies and television shows.  For a complete listing of his films and television work, click the link to The Internet Movie Database.